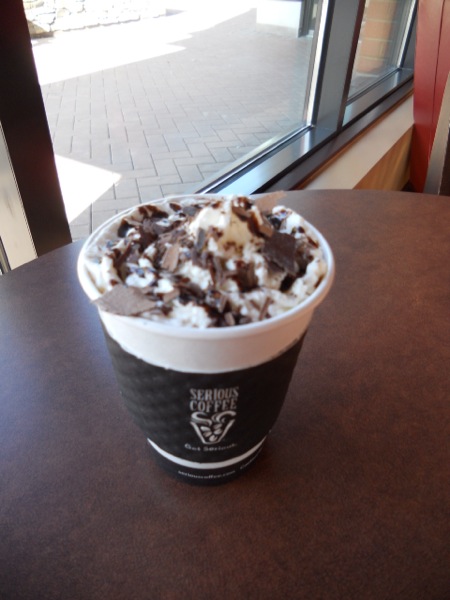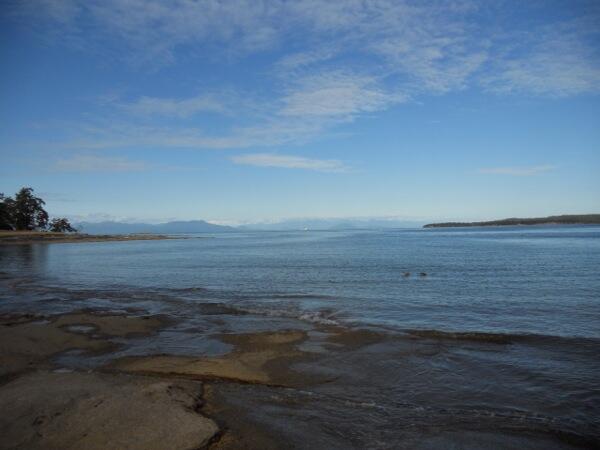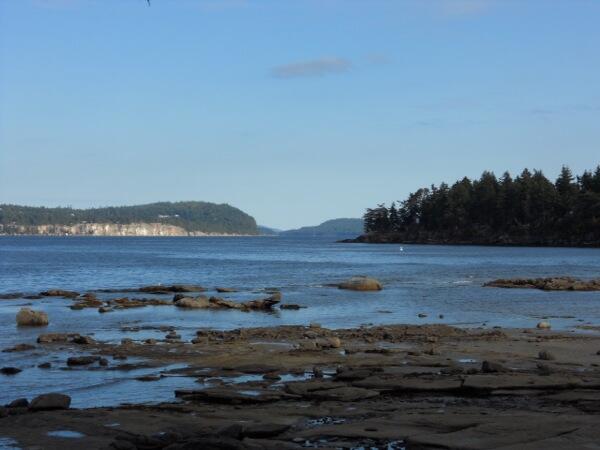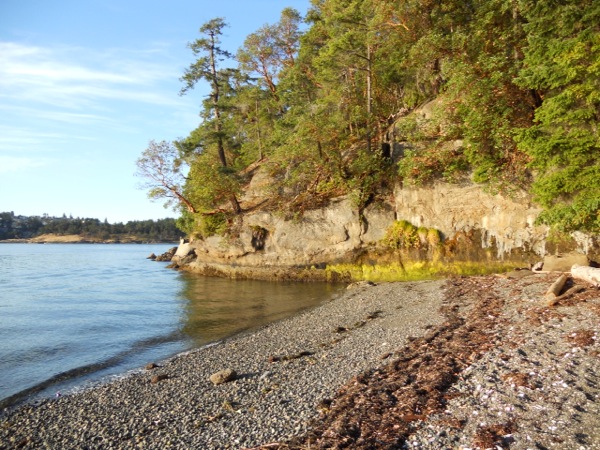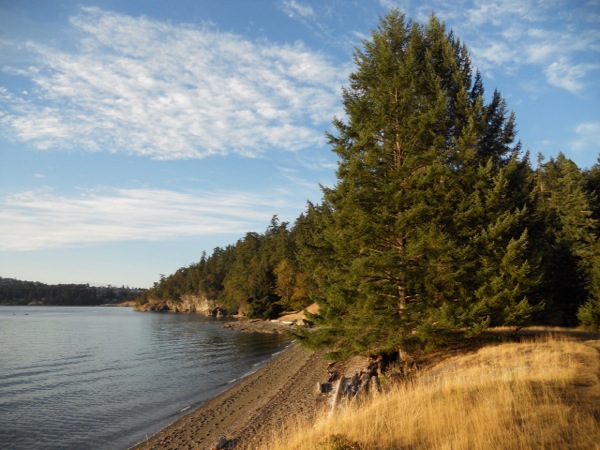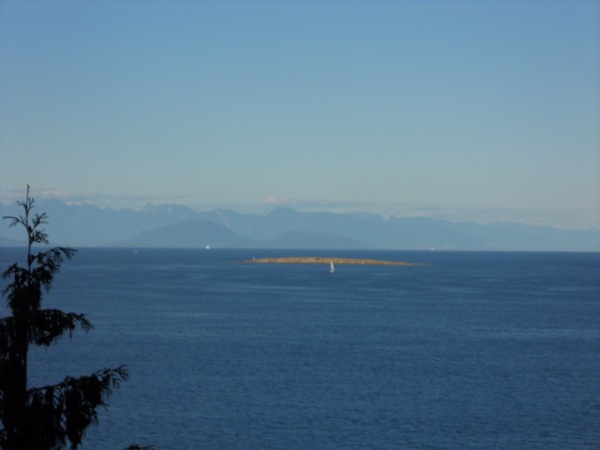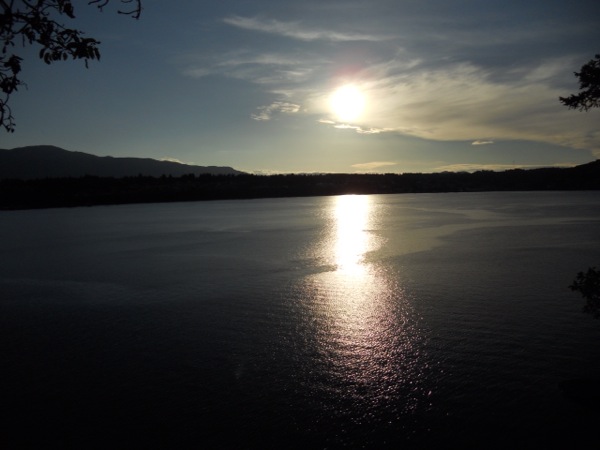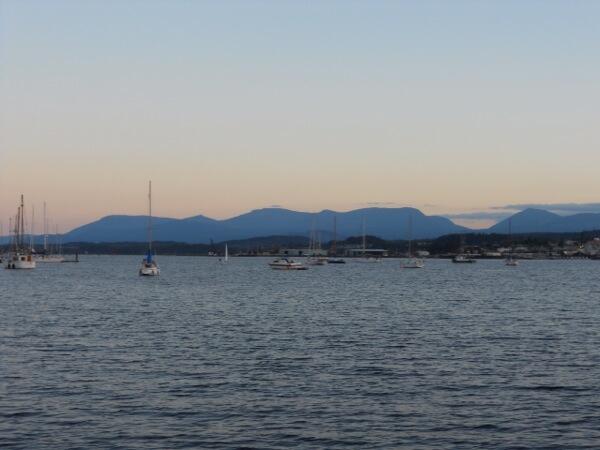 Well I'm getting in the habit of these late night updates. I always want to get things written down before I forget them though. Today started with an early wake-up call so I could catch the train. I grabbed breakfast at a little bakery by the train station. When I picked up my train ticket I found out I had to ride a coach bus for the first 20 minutes. They are doing bridge repairs so the train couldn't come all the way to Victoria. That was not ideal as I had to wait in two lines now to get going in the morning. Ahh. I guess it could have been worse though. The train ride was nice. I had my row all to myself so plenty of room to stretch out. I ended up reading more about Nanaimo and watching some tv shows I saved on the ipad. The scenery was pretty sweet too. We went over a couple pretty high bridges.
When I got to Nanaimo it was a quick and easy walk to the hostel. This hostel is nice and I don't mind it at all. It's right in the middle of things downtown so it's easy to get around. I paid extra to get a room to myself. It ended up being a little bit more for a night than the hotel the night before but that's because all of the hotels here cost more. The room and bed are comfortable. The only complaint I would have is I can hear into the adjoining rooms fairly easy. I have earplugs though so I'm not worried.
I grabbed lunch on their Fisherman's Wharf. I can't remember the name of the place but it was salmon fish and chips. During lunch I remembered my first time hearing about fish n' chips. It was when I was young and really into Micro Machines, those little tiny cars with foldable building block roads and communities. One of the stores I got for it was a fish 'n chips restaurant. I can still see the logo in my mind. Anyway the food was good so I was happy.
After lunch I went into town and browsed a bunch of stores. Nanaimo is known as an artsy area so there are a lot of art stores and galleries. I found one art gallery I really liked a lot. I wish I had more money to buy the art I wanted because I found a few pieces that would be cool to have. There was one called "Street Light" that was a multidimensional painting of a streetlight. It looked like it would jump off the canvas. Super cool. I also found an Apple retailer and went in and talked to them. Apple had a big news event today and I wasn't able to follow it like I usually do so they filled me in. Then I found a coffee, a very nice mocha from Serious Coffee.
After that I headed over to Newcastle Island. This is an island you see across the harbor. It was a quick 10 minute ferry ride to it. The island is a provincial park so there are no residents, just park land. I walked the perimeter, about 8.5 km or 5.25 miles. It was not as difficult as my mountain hike but it was long. I judged the time wrong but that may be because I stopped a LOT, took lots of pictures, and just enjoyed the scenery. I also took some adventurous offshoot trails. I found many ways back down to the ocean areas, did some bouldering, and more serious hiking. At one point I was climbing rocks practically straight up on ground that wasn't solid and with little trees that wouldn't support me if I decided to grab one if I fell. I kind of freaked out a little bit because I was alone and nobody else was there. It would have been a good 80-100 foot drop but no worries because I made it. I took a picture from the top but it doesn't look bad in the photo because it's hard to see where the bottom is versus the top because of all the green trees. After that I was careful about choosing my route so I would avoid death or serious injury on this trip. The island hike was beautiful and I did it starting about 5:15 so I got to see the sun come down. When I finished the hike I took the ferry to the island next to it. There is a little island pub called the Dinghy Dock that I grabbed a burger at. It was pretty dang good.
I came back to the hostel after that and did some laundry. Tomorrow I will check out a few more art galleries, a lagoon, perhaps a brewery, and a mediterranean restaurant. Then I will hop on a ferry for two hour and head back to Vancouver. I will be staying with a family in the southern part of Vancouver just off the light rail line. The man is a Rabbi and is interested in talking with me. We'll see how that goes. They seem really nice and I'm looking forward to it because he was very easy to work with trying to get a place booked through airbnb. He's also close to some southern vancouver area shops and other stuff that would interest me.
The things I really want to see or do now would be: Stanley Park, Kitsilano Beach, the shopping district (can't remember the exact name of it but it's the flagship stores for Banana Republic and Gap), and also the suspension bridge in north vancouver. The one I want to go to is not Capilano which has much more fanfare but also costs money to see. The one I want to see is free and only 20 feet shorter so I think it's worth it. Plus I think it's easier to get to with public transit. Anway, I should have wifi at the house but I can't say that for 100% sure. If I can I'll update you. Peace.