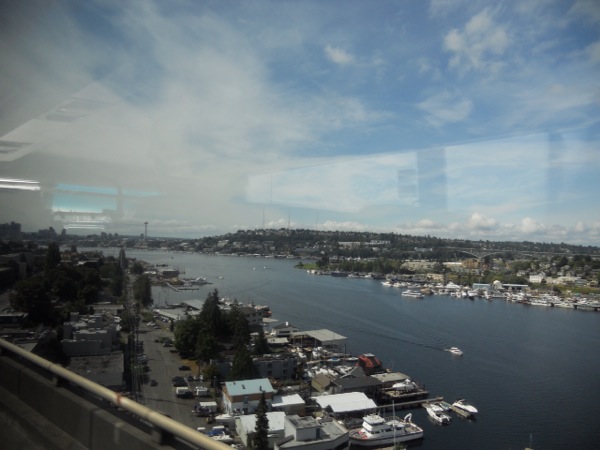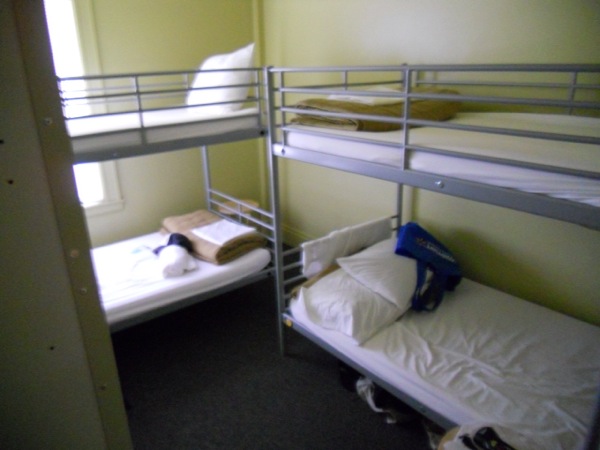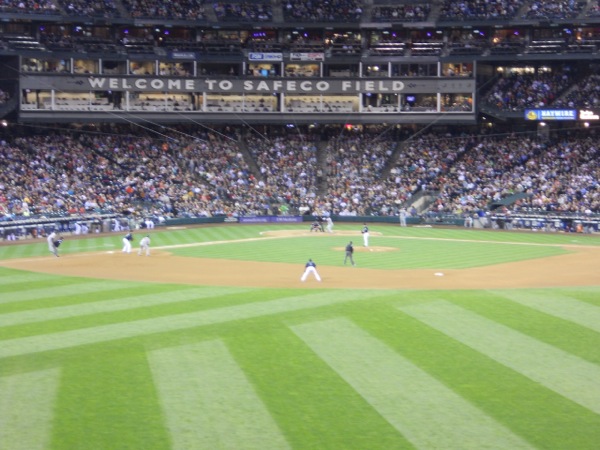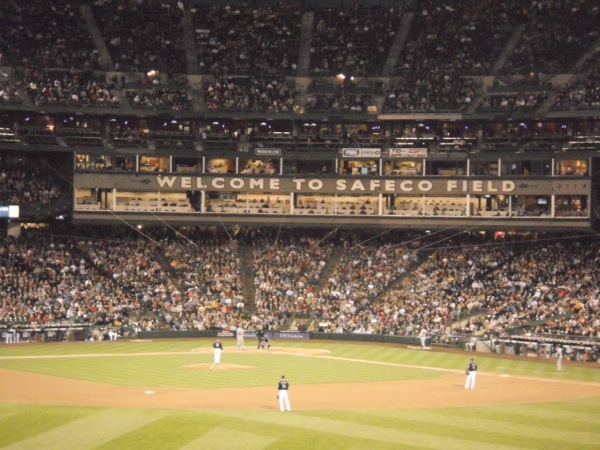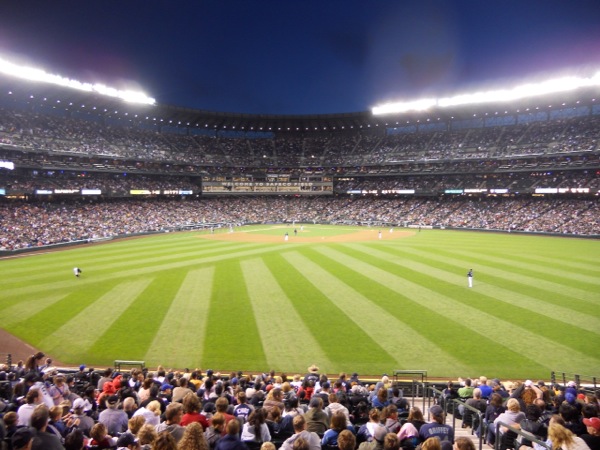 Hello everyone. I talked to some of you who are following this blog yesterday but for those of you who I didn't here's a quick update on my hostel adventure yesterday. When I got to Seattle I made my way to the hostel which was across downtown. I wanted to catch a bus that went there but I just missed it so I started walking. It took me awhile but I made it there okay, about 1.2 miles later. When I got up to my room I knew within moments I would have a problem. Now I knew using hostels would be an adventure and I still think I picked "good" hostels but I just knew I wouldn't enjoy my time there for two nights. There was a pungent smell when I walked into the room. Not really bad or disgusting but more like a really bad perfume or cologne. There were four beds, two bunks, in a room smaller than most small dorm rooms I've seen and the only other space available was for out lockers. No sink or anything. I sat on my bed and could feel the bars beneath me. The window was right next to my bed, which if you know me you know I can't sleep with light, I opened it up and it was a really gross looking AC unit taking up my whole view. There was also very little noise suppression from the outdoors. I knew this would not be a good nights sleep.
I immediately locked my stuff in a locker, pulled out the ipad, and went to work finding a cheap hotel. I figured any hotel with a room of my own and a crappy bed had to be better than this. At least I would have my own room and a shower available. I launched the trip advisor app and searched for what people said about hotels so I knew which to try to avoid. Then I launched the Priceline app and started my bidding. Two hours later I had found a hotel down by the airport. They had accepted my price of $40 so after tax I was only spending about $20 more than the hostel. The only caveat was that it was for Saturday night only. Priceline makes you change all sorts of factors to keep bidding so I did so as well as changed my email address multiple times. I then tried to find a different hotel for one night but didn't have any luck and price line wasn't letting me do any more changes. So I decided to ride it out and try to be positive and make it work. After the ballgame I came back to the hotel and headed up to my room. The minute I stepped in there I knew I had to leave. I wouldn't be able to sleep and I didn't care about my $25 at that point, they had already refunded me for Saturday night after I told them I'd be staying somewhere else. I called a couple of other hotels nearby and was ready to pay a pretty penny. I decided to call my Saturday hotel though and see if I could swing something with them. They gave me a room at their most "discounted rate", which obviously isn't because price line accepted my $42 offer but who cares, and I got a room for $75 plus tax. That sounded sweet to me when everyone else was asking at least $150. The bonus was that Trip Advisor had many good reviews about this place. I went up grabbed my bags, checked out the same night I had checked in to the hostel which confused them a bit, and hopped on the train which had a station right by the hostel. From the airport it was a four block walk. This seemed longer than four blocks though because I had my luggage and it was midnight now. The area seemed safe though and they had big sidewalks off the rode and I walked along a row of other hotels, much like in Bloomington, MN.
The minute I got in my room I was very happy. I was able to shower, the room was nice, I had a comfortable bed, it was quiet, and they told me there was breakfast. I watched some ESPN for a bit which was really weird because the only tv up till now I'd seen had been in the airports and in bars/restaurants with no sound. To be honest I didn't really like the tv too much because I've been enjoying my vacation and quiet time so much. That's a good thing though. The only drawback was that wifi is not free. The good thing was that a 2 day pass which takes me up till I check out on Sunday only cost me $10 which is cheap for hotels that do charge for that stuff. I slept till 9 this morning and was really tired when I got up. That's good because that's when I know I slept well and would feel better as soon as I showered, which I did. I went out to get breakfast as soon as I was up and was very happy. It was the first breakfast I've had all trip so that was good but it also had waffles! Granny and Grandpa you would have loved it and it reminded me of our weekly breakfasts during the last couple summers.
Yesterdays Twins game was super fun. The stadium here is gorgeous. I still think I like Target Field better but I see why this one gets such high marks from fans, writers, and players. This has been one of the highest rated ballparks since it was built and is still at the top of most writers lists but now is either just above or below Target Field. My seats were awesome! 10 rows behind Scotty Ulger and the Twins dugout. We had numerous foul balls in our area. One of them I might have been on tv for but I don't know for sure. The folks next to me were super nice and we talked most of the game. This was also nice because as you can probably imagine I haven't been doing much talking. They were originally from the Iron Range but moved out to Salem, OR long ago. They raised their kids baseball fans and the one that was there that night definitely was. We had a good time commenting on the game together. The gals right behind me were from Hastings originally but now live in St. Paul and Lilydale. If any college friends read this you know that they of course know Greg Kvamme, seems everyone from there does.
I would like to take partial responsibility for Scott Baker pitching as well as he did. This was the fourth straight Twins game I've been to when he's pitched. Every single one of the previous ones he'd get a lead early and then give it back. Now when he was done warming up in the bullpen he, Drew Butera, and Rick Anderson were walking to the dugout and passed right in front of me. For some reason I yelled out "Hey Scott when you get the lead, don't give it back to them!" I felt super bad right away when he looked over towards me. I don't know if he knew who it was but I was super worried I got it in his head and if he would've had a bad game I would've felt really bad. Oh well the fan in me came out. It got better late in the game when the older guy in front of me, who was drunk and on a date, started telling his girlfriend in the 8th inning that with the bases loaded and Adam Moore up to bat that this guy would hit a grand slam. Well a little background, Moore is a rookie and is expected to be good someday but he's batting under .200 with 3 homers on the year, and we brought in Matt Guerrier. So I leaned over to the Twins fans next to me and told them this guy doesn't have a chance. The moment he swung the bat he looked foolish so I yelled "Way to swing like a rookie." Us Twins fans were quite happy and this started a fun, lighthearted back and forth the the older guy in front of us. The only bad thing was that my camera died, remember I couldn't charge it the night before, so I only got a couple of pics of the stadium.
I had dinner last night in the Belltown neighborhood which is quite nice. There are lots of shops and restaurants in the area. The good part was it was out of the main busy downtown area so I thought it'd be cheaper. I took the waitresses recommendation of spicy chicken tacos over the special that brought me in the door which was fish tacos. They were amazing and totally filled me up. She was also nice enough to give me the late night special price for them as that's the only time they're supposed to be on the menu. For that and a drink it only cost me $10 plus tip. Best deal I've head so far this trip food wise. I also checked out Pike Place Market and saw the fish being thrown. By my calculations I walked all over downtown, back forth, and back again and racked up about 4.5 miles throughout the day in Seattle plus the walk from that morning in Vancouver.
Right now I'm about to head back to the downtown area. I may see if I can snag a cheap ticket to the game with a good seat. If I can then I'll go and walk around downtown later. If I don't get a ticket then I'll go hang out at the piers, grab a Starbucks, do some shopping, and whatever else I can find down there. But I will be relaxed one way or another.
For the upcoming legs of my trip I cancelled my hostel stay in Victoria after my experience at the one here. It may well be a nice hostel, I won't know that but I wanted to get a decent nights sleep while I'm there and enjoy my time there as well. So I used Priceline to get some more really really cheap hotel rates which ended up being in the same hotel chain as the one I'm at now. I did this prior to the ballgame yesterday. During the game the woman next to me overheard me telling the story of the hostel to dad. She recommended I check out Airbnb.com. It's a home rental service and she swears by it. Prior to this trip I had checked out VRBO.com and HomeAway.com both which are similar but prices were still more than I wanted to pay so I wasn't sure about it. When I got to the hotel I logged on to airbnb.com and found some really good deals. I am pondering using this to book my future stays during this trip. One thing I did notice though is that the hostel in Nanaimo, BC has listed some of their private rooms on airbnb.com because they are so nice. I've heard nothing but great things about that hostel so I'll probably stick with it but maybe I'll extend my stay on the island or find a place in Vancouver using it.
Well that was a lot of writing and I'm sure a lot of reading for you so I should stop and go find a Twins ticket. Have a good day. Peace.