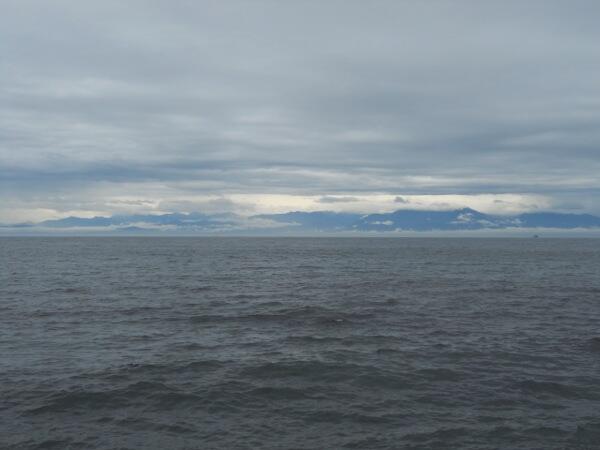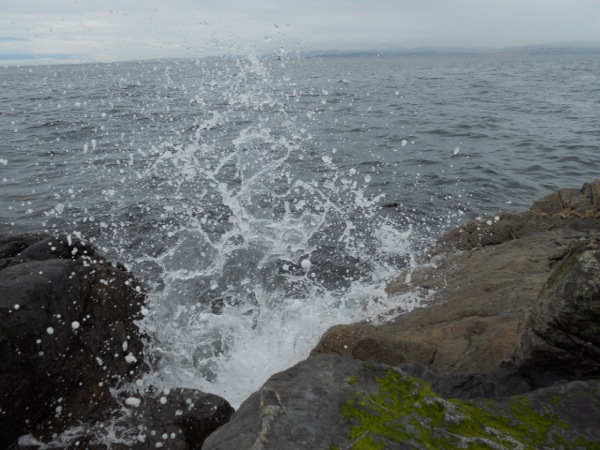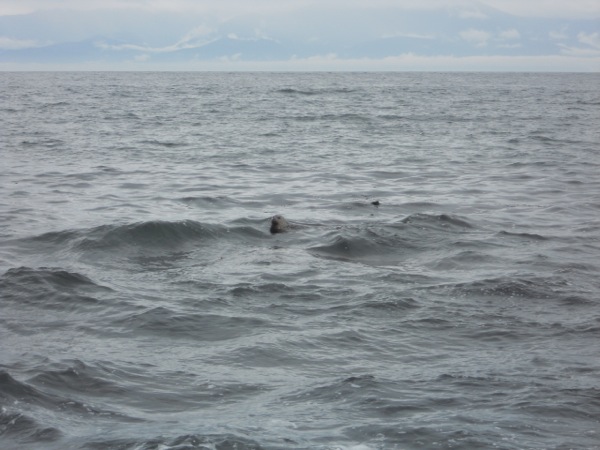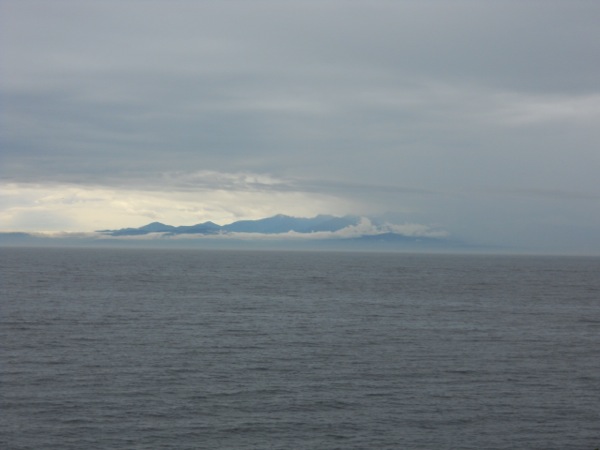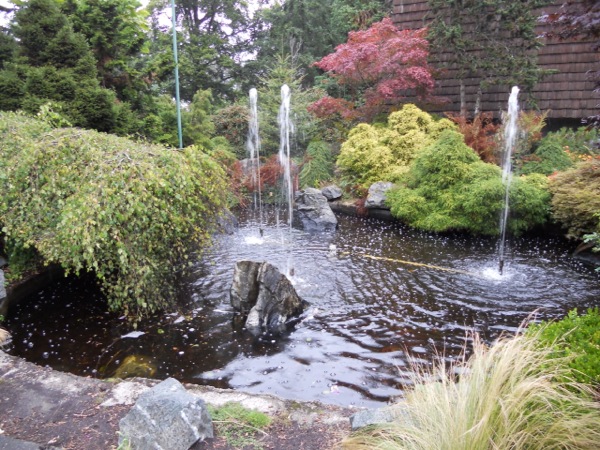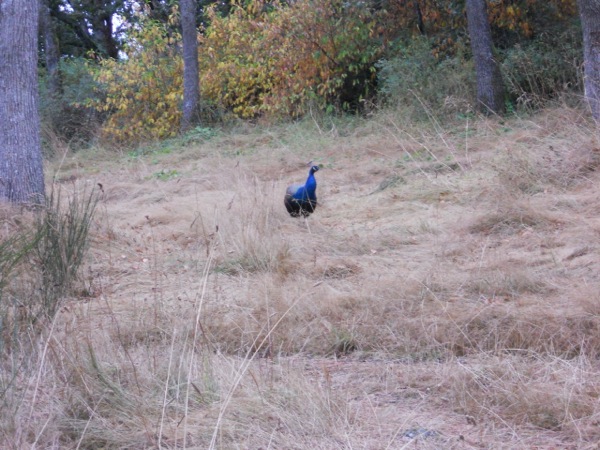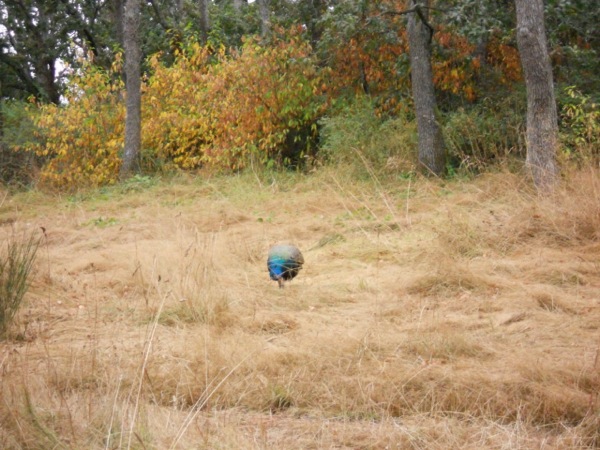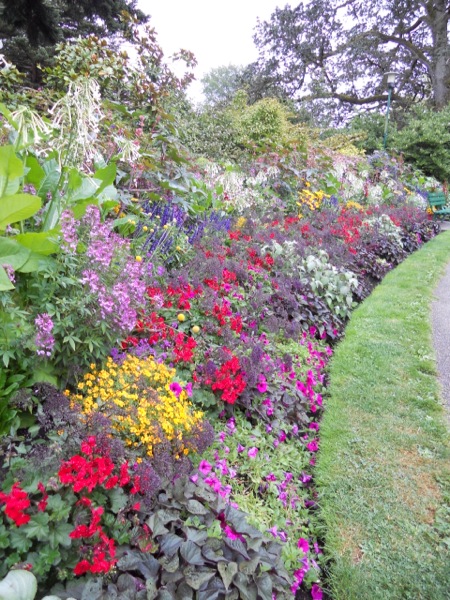 Today was a pretty relaxed day. I enjoyed it immensely and needed a day that was unplanned. I woke up late and spent some time sitting around my room. I then headed outside to find something to do. To my delight when I stepped outside it was cool, about 55 degrees, cloudy, somewhat foggy, and with a light drizzle. This is what I expected to encounter much of the trip. I've been happy with the weather but it was nice to enjoy crisp, fresh, cool weather. I was prepared with a good shirt with a hood and my vest. I took a different route to one side of the island that faced the ocean and the Olympic mountains in Washington.
When I got there I was amazed by the beauty. I was able to watch the cloud and fog as they approached Washington then could see where it was raining. Some of the pictures above are from this. I just stood or sat there for a few hours watching this. I explored the rocky beach area during this time as well. This gave me a great chance to do some exploring and mild bouldering. It was great to just be able to sit down and think about things for awhile. While I was down there it started to rain a little bit. The ocean also started churning more and more which was cool.
At one point I was just sitting there and out of nowhere this harbor seal pops it's head out of the water and looks at me. He couldn't have been more than 25 feet from me. By the time I grabbed my camera and got it started he had gone under and come back up a little further away but it was still cool. After my time on the beach I checked out Beacon Hill Park. This park has great views, was the start of the Trans-Canadian Railway ( I think it was that or the highway, one of the two.) It also had a flower garden area, tons of various birds and ducks, and these crazy colored turkeys.
After Beacon Hill I went to the Cross Street neighborhood with it's little shops. It was a neat little area but I didn't find anything I wanted to buy. Then I went back to the downtown area and checked out the Munro's Bookstore which was in a historic building. Given all the hype I'd heard I thought it would have an amazing selection or something really unique. It did not live up to my expectations. That's not to say it was bad just that I've been to several bookstores and really like them and this one didn't really add anything to the experience other than the fact it was in an old building. It wasn't even that big a bookstore, which in a way is a good thing, but I think I've found more interesting books at Half Price Books in Highland Park.
Finally set out to find some food and headed for Red Fish Blue Fish. It was still raining and I found the restaurant to be closed. I have no idea why it was closed as there was no sign up and it was only 5:30 pm. I ate later there yesterday. So I headed to Fisherman's Wharf by my hotel and ate at Barb's. I had a Halibut and a Haddock Fish 'n Chips. It was good but my goodness overpriced for fried food. Then I went back to the hotel and have relaxing since. Tomorrow I'm up early and head to Nanaimo. I haven't been super excited for this part of my trip but now that I'm looking for things to do and checking out the train route I'm excited. There are some cool mountains to see, islands to ferry to, and a lagoon.
This trip is wrapping up quicker than expected, at least it feels that way. I will be happy to be home and appreciative of everything I have at home. This includes food, lots of clothes, internet, friends and family. My main companion so far this trip has been: prayer time, sermon podcasts, my music (especially Ferris, Misty Edwards, Shane and Shane, All Weather Human, David Crowder Band, O.A.R., Newcomers Home, Mat Kearney, and Lecrae), and this taking notes so I can update this blog. I look forward to all those things when I get home and so much more. Oh dang I just remembered I have school when I get back. I better get in proper thinking mode for that. Peace.